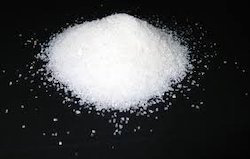 WAP Gr I
Product Description
As a remarkable entity of this domain, we are engaged in providing
WaterAbsorbent Agent/ WAP Gr I
. The offered product can absorb water of up to three hundred times of its weight which it releases to plants root as required. It increases plant available water holding capacity, aeration balance, and structure of soils. It promotes plant's growth resulting in larger, healthier plants and increases crop yields. Furthermore, we offer this absorbent agent to our valuable customers at industry leading price.
Features:
Saves water

Neutral pH level

Improves quality of soil
Advantage:
Easy to use. Apply it to the root zone of plants then cover it with soil before watering.
Increases water holding capacity and reduces irrigation frequency while saving water, money, time and labour.
Improve the physical properties of soil through good aeration & maintain the constant temperature in the soil.
It prevent leaching of valuable water and nutrients from soil and reduces the fertilizers requirement. Releases the fertilizers efficiency slowly.
Provides optimum conditions for root development, get deeper root penetration, hence better access to nutrients
Increase germination rate
Protects the environment against drought & groundwater pollution
It is essentially neutral in PH and can work over wide range of PH.
DOSES:
HORTICULTURE: 20 TO 50 Gram. Per plant mixed in soil near the root zone
FIELD CROP :3-4 KG per acer apply along with seeds at sowing
LAWNS/GOLF COURS :15TO30 GRAM/Per sq. Meter.
NURSERY,POTTED PLANTS: 10 TO 20 Gram. Per plant mixed in soil near the root zone
Trade Information
25 kgs / as required crafted bags
Contact Us
H1, Efc Business Center, Marisoft- East, 7th Floor, Marigold It Part, Kalyani Nagar,, Pune, Maharashtra, 411014, India